***The library will be closed on Friday, April 15 for Good Friday***
CANCELLED – SHINE 2022 |  April 20-23, ages 5-17
Sad to announce that next week's scheduled SHINE 2022 mini-conference has been cancelled. We did not receive enough applications from interested presenters to move forward with the event.
SHINE is a mini-convention hosted by the Gibsonville Public Library that is designed to shine a light on the various gifts, talents, and interests of our under-18 community.
Kids and teens are invited to present at SHINE by demonstrating a skill, teaching a workshop, or leading a discussion about a topic in which they have an interest or expertise.
SHINE is completely free for presenters and attendees. It is a public, all ages event — only the presenters are required to be under 18.
Tuesday Morning Storytimes – 10:00 AM in the Community Room
Children birth – age 5 are invited (along with their caregivers) to visit the library for story time! Share songs, stories, and activities with Miss Ashley. Storytimes will be held in the library's community room, so space is limited. No registration is required for Tuesday morning storytimes – walk-ins and first-time visitors are welcome.
Small Group Storytimes – schedule a time for your group
We know everybody is busy – so starting in January, the library is giving families the option to schedule small group storytimes that work for their unique schedules. We will still offer our Tuesday Morning storytimes as a walk-in friendly, no-registration-needed option for library visitors. Families may request their desired day and time using the link below. Once confirmed, feel free to invite friends to join the fun. Each group may only request one storytime each week. Request your small group storytime online here or call the library at 336-449-6455 to request a day and time that work for you.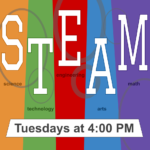 STEAM activities, Tuesdays at 4:00 PM
giblib.org/steam
There will NOT be a STEAM activity during spring break (April 19).
STEAM activities are designed for ages 6-12, and will take place in the library's community room on Tuesdays at 4:00 PM. In April, we will learn through working on projects in the library's community garden beds.
STEAM: Science – Technology – Engineering – Arts – Math

Homeschool Activities, Wednesdays at 11:00 AM
Weekly homeschool activities held every Wednesday at 11:00 AM. More information for interested homeschooling families is available at giblib.org/homeschool
April 6 – STEAM
April 13 – Career Day, Harper Belle coffee truck
April 20 – Chess day
April 27 – The great Treehouse War book discussion