*** The Library will be closed Thursday, Dec. 23 – Monday, Dec. 27 for Christmas, Friday, Dec. 31 – Saturday, Jan. 1 for New Year, and Monday, Jan. 17 for MLK Day ***

First step toward a new Gibsonville library
On December 6th, the Town board approved the purchase of land with the intention of building a new library on it! We don't have a timeline yet, but this first step is incredibly exciting! The property is right next to the Gibsonville Community Center on Minneola.
Introducing: the Friends of the Gibsonville Public Library
The Friends of the Gibsonville Public Library is a nonprofit organization focused on supporting local library services here in Gibsonville. Learn more about the Friends and make a donation online at giblib.org/friends. Find the Friends on Facebook at facebook.com/gibsonvillefriends. Your contributions make a difference and help support our library!
Tuesday Morning Storytimes – 10:00 AM in the Community Room
Children birth – age 5 are invited (along with their caregivers) to visit the library for story time! Share songs, stories, and activities with Miss Ashley. Storytimes will be held in the library's community room, so space is limited. No registration is required for Tuesday morning storytimes – walk-ins and first-time visitors are welcome.
Small Group Storytimes – schedule a time for your group starting in January 2022
We know everybody is busy – so starting in January, the library is giving families the option to schedule small group storytimes that work for their unique schedules. We will still offer our Tuesday Morning storytimes as a walk-in friendly, no-registration-needed option for library visitors, but will cap attendance at all indoor storytimes at 10 people – including children and adults.
Families may request their desired day and time using the form below. Once confirmed, feel free to invite friends to join the fun – just make sure that your total group size does not exceed 10 people. Each group may only request one storytime each week.  Request your small group storytime online here or  call the library at 336-449-6455 to request a day and time that work for you.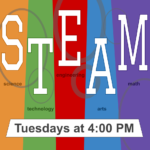 STEAM activities, Tuesdays at 4:00 PM
giblib.org/steam
STEAM activities are designed for ages 6-12, and will take place in the library's community room on Tuesdays at 4:00 PM. This month we'll explore classic, traditional, and modern art through hands-on activities.
STEAM: Science – Technology – Engineering – Arts – Math

Homeschool Activities, Wednesdays at 11:00 AM
Weekly homeschool activities held every Wednesday at 11:00 AM. More information for interested homeschooling families is available at giblib.org/homeschool
January 5 – Career Day: Burke Manor
January 12 – Game Day: New board game haul!
January 19 – STEAM
January 26 – One & Only Ivan Book Challenge
Dungeons & Dragons Teen/Tween Meet-up | RESCHEDULED FOR 5:30 PM, Thursday FEBRUARY 3RD, 2022
Interested in Dungeons & Dragons?  Teens and tweens are invited to a D&D meet-up at the library for all skill and interest levels.  We will complete character sheets, talk campaigns, and plan future gatherings.