***The library will be closed on Monday, May 30th for Memorial Day***
Community Conversation at Hope Corner – May 2nd, 5:30 PM
Hope Corner Food Pantry and Clothes Closet is partnering with the Gibsonville Public Library to provide this opportunity for us to gather, share a meal, and talk about the needs we see in our community.  We are inviting neighbors who use Hope Corner's services, members of the town's leadership, and local families.
This event made possible through an LTC grant. Libraries Transforming Communities: Focus on Small and Rural Libraries is an initiative of the American Library Association (ALA) in collaboration with the Association for Rural & Small Libraries (ARSL).
Tuesday Morning Storytimes – 10:00 AM in the Community Room
Children birth – age 5 are invited (along with their caregivers) to visit the library for story time! Share songs, stories, and activities with Miss Ashley. Storytimes will be held in the library's community room, so space is limited. No registration is required for Tuesday morning storytimes – walk-ins and first-time visitors are welcome.
Small Group Storytimes – schedule a time for your group
We know everybody is busy – so starting in January, the library is giving families the option to schedule small group storytimes that work for their unique schedules. We will still offer our Tuesday Morning storytimes as a walk-in friendly, no-registration-needed option for library visitors. Families may request their desired day and time using the link below. Once confirmed, feel free to invite friends to join the fun. Each group may only request one storytime each week. Request your small group storytime online here or call the library at 336-449-6455 to request a day and time that work for you.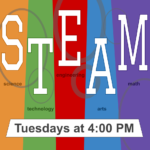 STEAM activities, Tuesdays at 4:00 PM
giblib.org/steam
STEAM activities are designed for ages 6-12, and will take place in the library's community room on Tuesdays at 4:00 PM. In May we will explore our five senses through a series of experiments and tests!
STEAM: Science – Technology – Engineering – Arts – Math
Homeschool Activities, Wednesdays at 11:00 AM
Weekly homeschool activities held every Wednesday at 11:00 AM. More information for interested homeschooling families is available at giblib.org/homeschool
May 4 – STEAM: Science of Star Wars!
May 11 – Career Day, Bri Bakes
May 18 – Museum History Day: Railroad History
May 25 – Treehouse Book Battle Challenge!!!