Introducing the GibLib Book Bike!  Learn more at giblib.org/bike
The library's Book Bike made its first public appearance at the town's 150th celebrations, downtown on September 11, 2021. We plan to bring the bike and a load of free books to locations all over Gibsonville, and would love to involve volunteers who are looking for an active, outdoor way to add a little community service to their life. If you are interested in helping out with Book Bike events (ages 18 & over, for now), please let us know here.  If you would like the Book Bike to stop in your neighborhood, you can make a stop request here.
Intro to IEPs and Special Education – Saturday, October 16 at 10:00 AM
Special education is a range of services that can be provided in different ways and different settings. There is no "one size fits all" approach when you're trying to tailor services to meet the needs of students with disabilities. Learn more about special education and the IEP (Individualized Education Program) process, and get answers to your questions from an experienced special education professional.
In-person, outdoor family story times 10:00 on Tuesdays
giblib.org/storytimes
These story times are designed for families with children 5 and under, and will take place in our outdoor activity area.  Take-home craft kits will also be available for pick-up at the library. Outdoor events are affected by the weather – please check our Facebook or Instagram @gibsonvillelibrary for updates if the weather looks dicey.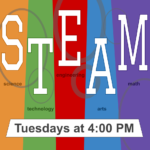 Outdoor STEAM activities, Tuesdays at 4:00 PM
giblib.org/steam
STEAM activities are designed for ages 6-12, and will take place outside the library, so please dress for the weather!  Check our Facebook or Instagram @gibsonvillelibrary for updates if the weather looks dicey.
STEAM: Science – Technology – Engineering – Arts – Math
Homeschool Activities, Wednesdays at 11:00 AM
Weekly homeschool activities will start on Wednesday, October 6th at 11:00 AM.  More information for interested homeschooling families is available at giblib.org/homeschool
October 6 – Game Day: Lego Build Project
October 13 – Career Day: Public Works with a Garbage Truck
October 20 – STEAM
October 27 – First Book Battle Discussion
Barbara's Pick of the Month
A Beginner's Guide to America : For the Immigrant and the Curious
by Roya Hakakian
Iranian American poet/journalist Roya Hakakian provides readers with heartfelt insight into the U.S. immigration process and experience. Once you start reading this rousing, witty, and touching book, it will be very hard to put it down!