*** The Library will be closed on Thursday, Nov. 11 for Veterans Day, and Nov. 25-27 for Thanksgiving ***

Celebrate Dia de los Muertos at the Library | Friday, Nov. 5, 5:30-7:00 PM
Traditional Mexican Ofrenda, Music,Treats, and Free Books!
Come in your best Día de los Muertos costume and if you wish, bring a photo of a lost loved one to add to our ofrenda.
This event will be outside, so dress for the weather!
Free Family Photos at the Library | Saturday, November 13, 10:00 AM – 2:00 PM
Pictures for Holiday Cards – Individual Portraits
Professional lighting, backdrops, seating & props
Learn more at giblib.org/photo-day.  Print an information sheet and session form
This event is now fully booked.
Dungeons & Dragons introductory session | Thurs, Nov. 18, 5:30-6:30 PM
Calling all young adventurers! The Gibsonville Public Library will be hosting a Dungeons & Dragons introductory session for young adults ages 13-18 years old on November 18th, 2021, from 5:30-6:30 PM. This event will introduce participants to the basic rules of the world's greatest role-playing game. Our session will guide adventurers step-by-step in the character creation process. By the end of the session, participants will be ready to take part in a campaign at level 1. Come out and create a character, and gear up for adventure! Don't worry about dice or rule books – we've got you covered! Snacks will also be provided.
In-person, outdoor family story times 10:00 on Tuesdays
giblib.org/storytimes
These story times are designed for families with children 5 and under, and will take place in our outdoor activity area. Take-home craft kits will also be available for pick-up at the library. Outdoor events are affected by the weather – please check our Facebook or Instagram @gibsonvillelibrary for updates if the weather looks dicey.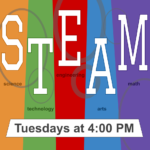 Outdoor STEAM activities, Tuesdays at 4:00 PM
giblib.org/steam
STEAM activities are designed for ages 6-12, and will take place outside the library, so please dress for the weather! Check our Facebook or Instagram @gibsonvillelibrary for updates if the weather looks dicey.
STEAM: Science – Technology – Engineering – Arts – Math
Homeschool Activities, Wednesdays at 11:00 AM
Weekly homeschool activities held every Wednesday at 11:00 AM. More information for interested homeschooling families is available at giblib.org/homeschool
November 3 – Game Day: Lego Board Game
November 10 – Career Day: Town Hall
November 3 – STEAM
December 1 – First Book Battle Challenge!
Barbara's Pick of the Month
Because of Winn-Dixie by Kate DiCamillo
This one's for you, kiddos! "Because of Winn-Dixie", by Newbery-award winning author Kate DiCamillo, is a heartwarming story that teaches the importance and meaning of love, friendship, and family. This awesome and endearing book is one that you won't want to put down once you start reading it!